Aaron Shearer: A Life with the Guitar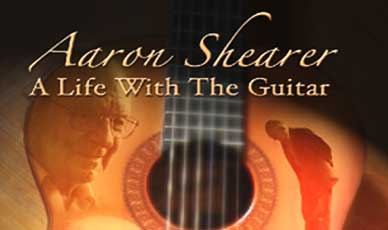 An hour documentary celebrating the life and work
of Aaron Shearer "the most influential classic guitar
author and teacher of the 20th Century."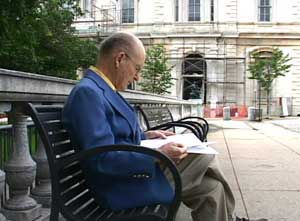 Aaron Shearer: A Life With The Guitar
Trailer
Featuring Mr. Shearer's former student:
Manuel Barrueco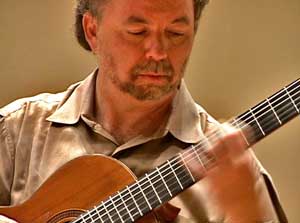 Also featuring:
David Tanenbaum
David Starobin
Julian Gray
Franco Platino
While a guest at Manuel Barrueco's master guitar class,
Aaron Shearer tells his extraordinary life journey.
His story is interspersed with exquisite performances
and insightful comments by some of the finest guitarists of our times.



Join Aaron Shearer in a front row seat
as internationally renowned concert and recording
artist Manuel Barrueco instructs talented master class students
from around the world. In a private recital for the class,
Maestro Barrueco performs Scarlatti, Nazareth and Rodrigo.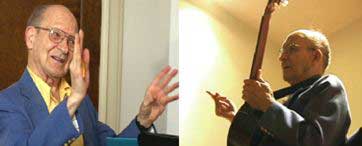 This captivating musical portrait will appeal
to everyone interested in the guitar and
curious about the fascinating world of the classic guitar.

A fascinating look inside the world of the classic guitar
with electrifying performances of Bach, Scarlatti,
Vivaldi, Cimarosa, Boccherini, Tarroba, Tarrega,
Albeniz, Barrios, Villa-Lobos, Rodrigo, Nazareth,
Bizet and Brouwer. The exceptional quality
of the sound recording and magnificent photography
create a memorable tribute to Aaron Shearer.
Appearances by America's leading classic guitarists
contribute inspiring insights into Aaron Shearer's life
and contribution to the study and performance of the classic guitar.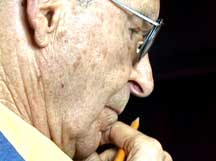 Aaron Shearer's guitar departments were models
for the many hundreds of university-level guitar
departments that now cover the nation.
In addition to private lessons, he initiated
classes in guitar literature, ensemble and pedagogy.

Born in a log cabin in the Blue Ridge Mountains
of the rural Northwest, Aaron Shearer traded
three white geese for his first guitar.
He was only 11 years old when he first
heard Andres Segovia on a neighbor's radio
and immediately fell in love with the classic guitar.
Frustrated with the lack of information about learning
to play the classic guitar, he began a lifelong journey
that would lead him to write the most popular
classic guitar methods ever written.
Aaron Shearer is the most widely recognized
and respected classic guitar teacher in America.

On the suggestion of Andres Segovia,
Aaron Shearer moved his family from Seattle,
Washington, to Washington, DC, to study with
Sophocles Pappas. Dissatisfaction with his first
and only teacher was a powerful motivation.
Mr. Shearer became determined to invent
a sensible approach to learning the guitar.
In 1959, Mr. Shearer published his first
landmark series of books, Classic Guitar Technique.
Within a few years, they were the most widely used
classic guitar method books in the world and remain so today.

Aaron Shearer created three of the first college level
guitar programs in America at American University,
Catholic University and then at the Peabody Conservatory
of Music. Mr. Shearer's highly successful program at Peabody
was a model for the many university and college guitar departments
that now span the nation. Since retiring from the North Carolina
School of the Arts, Aaron Shearer has been revising his most recent
Learning the Classic Guitar publications.
Aaron Shearer's former students include an increasing
number of extraordinary performers like Manuel Barrueco,
Ricardo Cobo, David Tanenbaum and David Starobin.
His former students now chair university and
conservatory guitar departments around the world.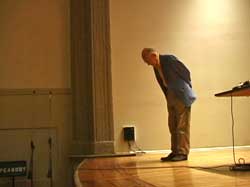 Aaron Shearer: A Life With the Guitar is a stimulating
exploration of the life and work of one of the most
important figures in the history of the classic guitar
with comments and performances
by some of today's finest classic guitarists.
Produced, Directed and Edited by
Michael R. Lawrence
Michael Lawrence was a student of Aaron Shearer
and a member of the first graduating guitar class
at The Peabody Conservatory of Music.
On Mr. Shearer's referral, Mr. Lawrence
auditioned for Oscar-winning filmmaker Julian Krainin,
who was looking for a composer/guitarist
for his current production. Michael Lawrence
was hired and composed the soundtrack
for Mr. Krainin's Emmy-award-winning
documentary, The Other Americans.
Intrigued by the filmmaking process,
Michael Lawrence began composing music scores
for a number of documentaries and eventually
began making his own films. He purchased his first
8mm motion picture camera from Mr. Shearer in 1969.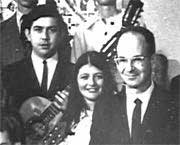 Michael Lawrence soon turned to filmmaking
as a profession and later joined into a partnership
with Julian Krainin that has lasted for over a dozen years.
Mr. Lawrence has produced and directed numerous
documentaries for HBO, PBS, CNN and has won
dozens of national and international awards for his work.
For thirty years, Mr. Lawrence has wanted to make a film
on his former teacher and mentor. That dream
has finally been realized in this hour documentary
on the extraordinary life and work of Aaron Shearer.