Manuel Barrueco: A Gift and a Life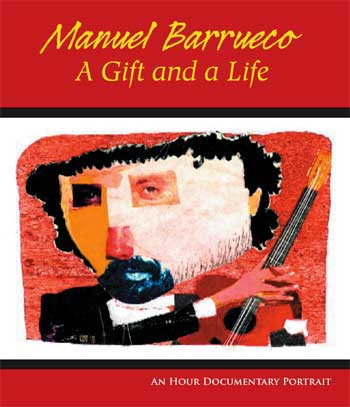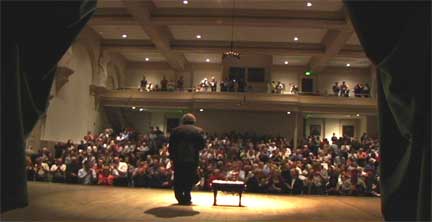 A new documentary on internationally
acclaimed concert and recording artist Manuel Barrueco.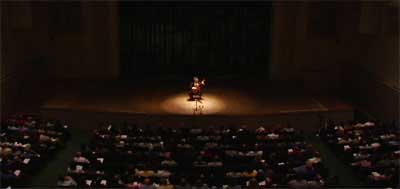 Photographed with four cameras and recorded with exquisite sound,
Manuel Barrueco's 2004 solo recital in Peabody's Friedberg Hall
is featured throughout the film.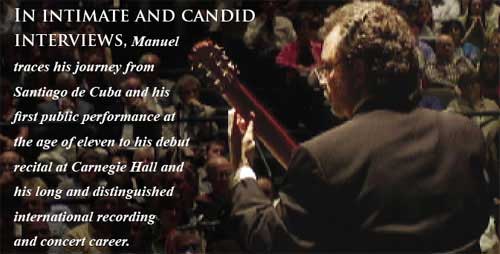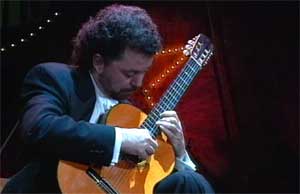 The documentary was produced, directed and edited by multi-award
winning filmmaker and Peabody alumnus Michael R. Lawrence.
The co-producer was Asgerdur Sigurdardottir.
Mr. Lawrence's previous production was
Aaron Shearer: A Life With The Guitar.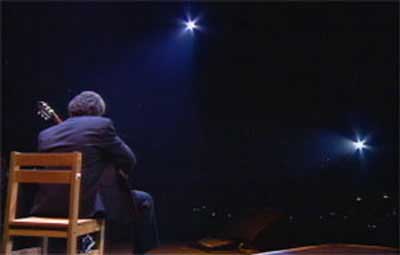 Also featuring excerpts of Manuel's performance of
Rodrigo's Concierto de Aranjuez before an audience
of twenty thousand in Antwerp, Belgium.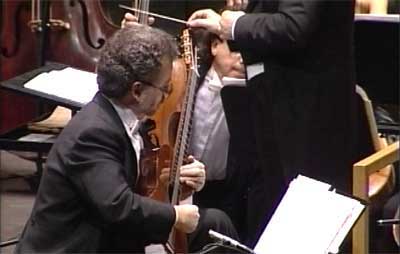 And excerpts of the premiere of Roberto Sierra's Folías
with Victor Pablo Perez conducting the Orqesta Sinfonica de Galicia.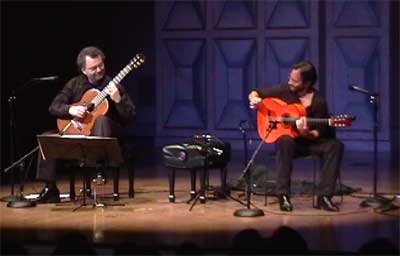 Manuel and Al Di Meola
The documentary covers Manuel's openness
to a wide variety of styles and his collaborations
with non-classical guitarists like Andy Summers,
formerly of The Police, and jazz guitarist Al Di Meola.
David Tanenbaum tells of recording a duo arrangement
of Lennon & McCartney's Penny Lane with Manuel
in the same Abbey Road Studio where
the Beatles recorded the original.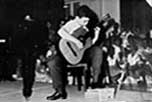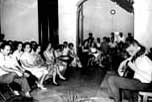 "I just fell in love with the guitar.
And I remember the first time I played in public
in one of the student concerts. And I remember
thinking I was walking into another dimension."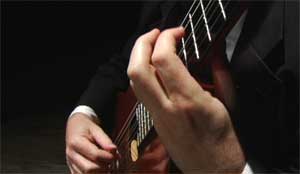 "I am originally from Santiago de Cuba.
So the first rumblings I heard about Castro
and the revolution must have been when I
was about six years old. With the revolution
there was a big change but it was not until
Castro declared himself a communist
that our lives would really change forever.
"We were living now in a system that did not
allow dissent. You couldn't speak against it.
You would be punished if you did.
And I happened to have a mother
that didn't seem to be able to control herself.
And I feared for her, that something
would happen to her. But you know
when you are a child "it was very intense.
And I was very afraid
"When it seemed pretty clear that things
were not going to change, my family
decided to flee. To leave my hometown
could perhaps be the most painful experience
I ever had in my life. My sister stayed behind
with her husband and I still remember
looking back and seeing her waving at her.
And you know. God! As it turned out, it would be
another eighteen years before I would see her again."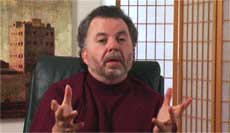 "I remember seeing a place that they called
the Raft Museum in Key West.
And you see these things in which Cubans
tried to leave the island. You don't throw yourself
in shark-infested waters in one of those things
unless you are desperate, in search of your dreams.
"And I think it is really, as a Cuban, as a human being.
It's just hard to see that. It's hard to see that.
That's not necessary. People don't need to die that way.
So, I won't go back. I won't go back.
I cannot go there and be seen in any way,
shape, or form that I, in any way, support that."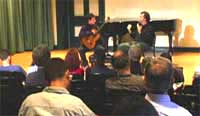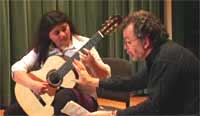 The film includes a section on Manuel teaching talented guitarists
who have come from around the world to attend his Peabody master class.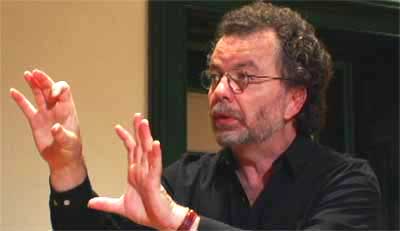 "In my teaching, I feel very privileged to work
with some extremely talented students.
And somebody like Lukasz, I think, is the most expressive
and musical young player I have ever encountered."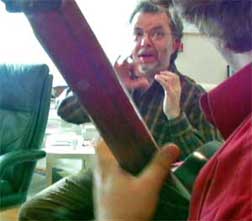 Peabody student Lukasz Kuropaczewski,
who is already an international concert and recording artist,
has a private lesson with Manuel.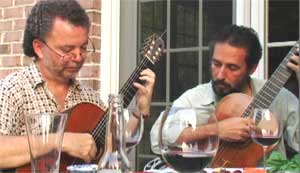 Sergio Assad plays his composition Farewell with Manuel.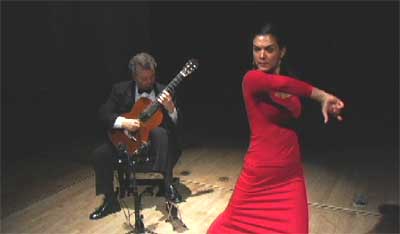 Manuel performs with flamenco dancer Anna Menendez.
Manuel records the Concierto de Aranjuez with Plácido Domingo.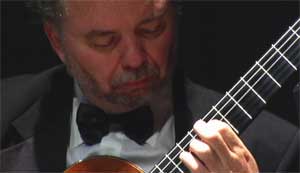 Written, Produced and Directed by Michael R. Lawrence
Co-Produced by Asgerdur Sigurdardottir