BACH & friends PBS Broadcast Underwriting
Michael Lawrence Films and Maryland Public Television seeks a corporate partner,
organization or foundation to underwrite the national PBS broadcast of BACH & friends.
Joshua Bell and Bobby McFerrin join an array of world-class musicians
reflecting on the power and genius of Johann Sebastian Bach's music
and perform his greatest masterpieces.
This sweeping documentary examines the power of Bach's music
through interviews and performances including: Philip Glass, Béla Fleck,
The Emerson String Quartet, Hilary Hahn, Edgar Meyer, Chris Thile, Manuel Barrueco,
Simone Dinnerstein, Zuill Bailey, Jake Shimabukuro, The Swingle Singers,
John Bayless, Matt Haimovitz, Peter Schickele and Richard Stoltzman.
Rather than focusing directly on Bach's life, the film looks at how his music
is perceived by musicians and how it continues to exist today with ever-widening scope.
This multifaceted presentation puts a human dimension on the iconic image of Bach.
BACH & friends is a feast for both eyes and ears as performers share their thoughts
and personal reflections on the power and genius of the most influential composer in history.
Pianist and former MIT Media Lab professor Mike Hawley
provides a narrative thread throughout the film weaving
personal stories from Bach's life with insights into his music.

Directed by musician, composer, and award-winning
documentary filmmaker Michael R. Lawrence.
Sponsor BACH & friends on Public Television!
Underwriting BACH & friends enables your corporation, organization or foundation
to be associated with quality programing at its very highest level. Your support will bring
the uplifting experience of Bach's music to millions of viewers and present world-class musicians
performing and sharing their inner most feelings about our greatest composer.

PBS viewers feel that companies and foundations that support public television
have a commitment to quality and excellence. The Public Television audience
includes upscale consumers, community leaders, business decision-makers,
and are more likely to use products and services associated with PBS programs.
Pricing for underwriting a National PBS Broadcast:
Major sponsorship begins @ $80,000 with tie-ins, amenities
and a 15-second commercial at the beginning and end of each broadcast.
Smaller sponsorships begin @ $8,000 with a "funding provided by"
listing at the beginning and end of each broadcast.

Sponsor Benefits
• On-Air
Two 15-second credits, with one airing at the open
and one at the close of each program broadcast

• Advertising
In the event advertising is placed, the sponsor's logo
will appear in all advertising placed by Maryland Public Television

• Publicity
Sponsor name in publicity materials distributed to PBS stations

• Website
Sponsor logo appears on section of website devoted to the program.
Site updated with new information regularly.
Hot link to sponsor's website

• Production of On-Air Spot
MPT will produce a national-quality spot ready for PBS air.
This production activity normally costs between $7, 500 – $25,000
but is provided at $2,500 for sponsors. MPT will use the sponsor's existing spots
or corporate/promotional video and/or stills plus the sponsor's logo
and integrate these images into a superb original spot made to sponsor specs.
Sponsor will have advance approval on all creative elements.
A sample reel is available.

DVD
• Sponsor logo included on packaging of DVD

Our Promise
• MPT will work with sponsor to ensure that sponsor buys a relationship
that is designed to grow with sponsor's needs.
BACH & friends PBS audience projection
Estimated number of stations that will carry BACH & friends: 560
BACH & friends will run for a period of two (2) years
and stations are permitted to broadcast the show as many times
as they would like within that time frame.

Audience estimates are based on other successful PBS programs
like Great Performances and Live from Lincoln Center.



Source: Nielsen Television Index. NSI Ratings.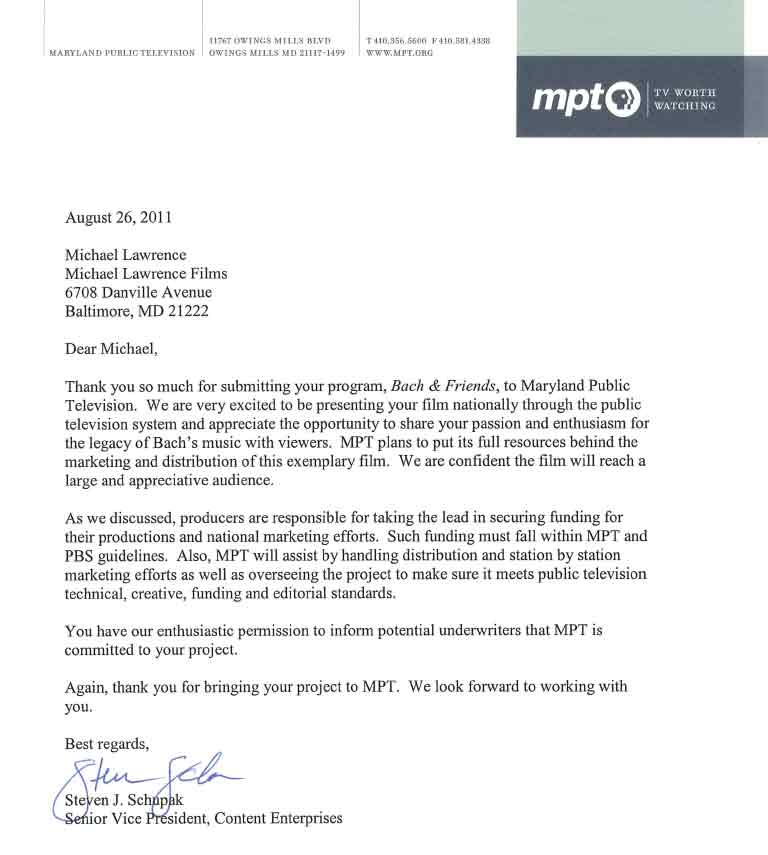 Dear Michael: The DVD's arrived today…..WOW! WOW! WOW!!
I watched in awe,… was inspired,…..was fascinated…and I was as one artist put it like a "vacuum cleaner"
just absorbing the profound comments and thought processes by all the various great artists
and their individual artistry and performances……. Fantabulous!!
I salute you and congratulate you on a glorious film!! It is a true celebration and glory to Bach.
If Bach had seen it he would have been very thrilled and proud! Every music teacher
and Musical Institution in the world should have this glorious masterpiece of film making, it's truly inspirational!

I am shocked that TV stations in the USA are not fighting over to screen this film……
It might just make the world a better place for 2 hours of it's screening (and most probably beyond)…….
Give me this any day over the War coverages in the Middle East, the never ending terror blah blah on CNN and BBC,
the Kardashians and Babes of the Playboy Mansions etc etc…..Your film is real and true; no gimmicks
no plastic no propaganda just sheer joy and beauty.

Wish you all the best with it…..I know you will succeed.
Serge Cuca


Michael Lawrence Films and
Maryland Public Television
seeks a corporate partner,
organization or foundation
to underwrite the national PBS
broadcast of BACH & friends.
BACH & friends
PBS Underwriting Page