The Quiz Show Scandal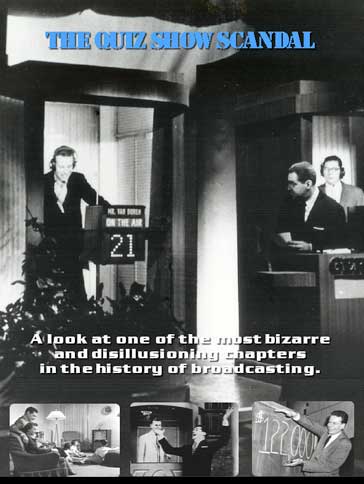 As television became a national obsession in the 1950s,
new heroes appeared on the American scene
contestants on the big-money quiz shows.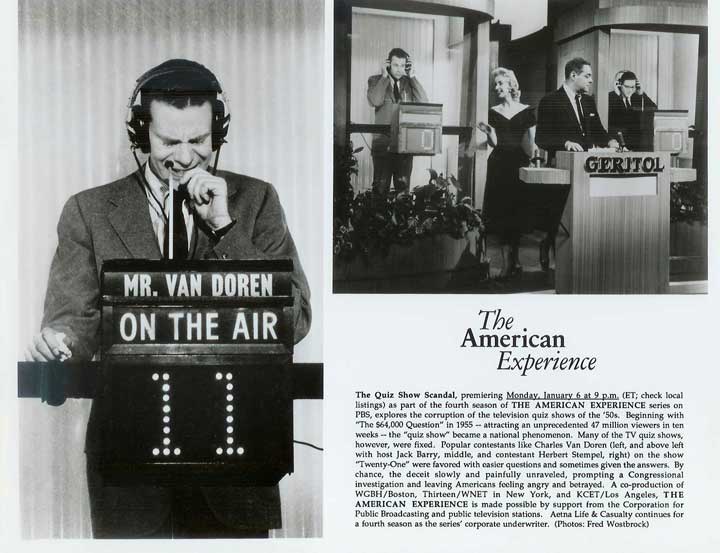 Patty Duke, John Glenn, Mike Wallace and Joyce Brothers
Twenty-One would take the ultimate step in quiz-show rigging.
Most contestants were cast as though they were actors,
every detail carefully orchestrated. Contestants
were now full partners in the deception.

Then, slowly and painfully,
a Congressional investigation
revealed that the shows were fixed
and America had been betrayed.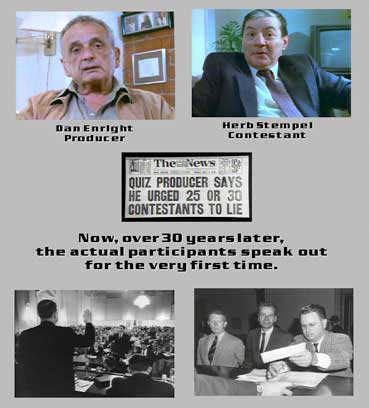 Lives were ruined, producers blacklisted, and many others,
like the most famous contestant of all Charles Van Doren,
remain in hiding even today.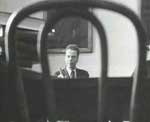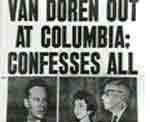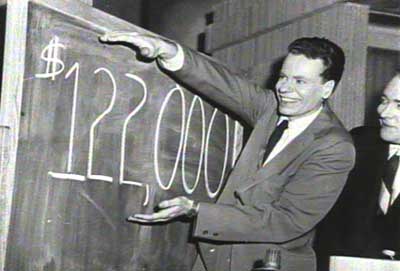 The Quiz Show Scandal tells the extraordinary, true story
of how more than 100 million viewers were deceived
and how over a hundred average, ordinary Americans
perjured themselves before a New York Grand Jury.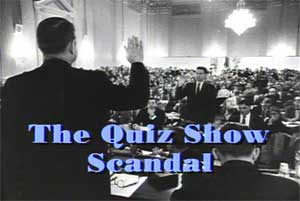 Robert Redford's Academy Award Nominated film QUIZ SHOW
was based on this documentary.
---
"One of the most compelling and important documentaries
ever about the history of American broadcasting."
David Zurawik, The Baltimore Sun
---
"The Quiz Show Scandal is terrific - so facinating
I'm sorry it was only 60 minutes long instead of 90."
Chuck Rich, Mutual Broadcasting
---
"A lively episode of The American Experience,
devoted as much to American innocence
as to the scandal in television."
John Leonard, Sunday Morning on CBS
---
"Producers Julian Krainin and Michael Lawrence
do a far better job of showing something that was lost
in the nation's spirit after America discovered the big fix
in TV quiz shows than Oliver Stone does in JFK."
Ed Siegel, The Boston Globe
---
"What's the most interesting program on TV tonight?
The answer is The Quiz Show Scandal.
Television rarely takes a look at its past in this way.
The Quiz Show Scandal is a happy and wholly
engrossing exception and a fine model for other
sorely needed documentaries about TV."
David Bianculli, New York Post
---
The American Experience - Quiz Show Scandal Web Page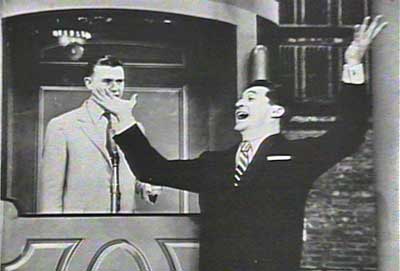 This Emmy-nominated film is among the highest rated programs
in the history of The American Experience on PBS.

Directed and Edited by Michael R. Lawrence
Produced by Julian Krainin and Michael R. Lawrence
Associate Producer, Johanna T. Lawrence