Bach Bits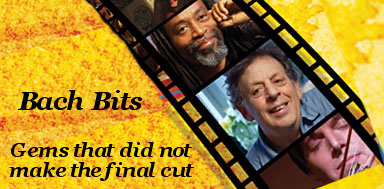 Chris Thile - Playing Bach On The Mandolin

Philip Glass & Wendy Sutter
Song VII - Songs and Poems by Philip Glass

Matt Haimovitz Plays Bach's Saraband from the Cello Suite No. 1 (BWV 1007)
John Bayless Plays a Medley of Beatles Songs in the Style of Bach
The Emerson String Quartet plays Excerpts from The Art of Fugue (BWV 668)
Mike Hawley Plays Bach's Choral Prelude
"I Call to You, Lord Jesus Christ" (BWV 639)
John Bayless & Anatoly Larkin Improvisation on Sheep May Safely Graze (BWV 208)
Bobby McFerrin sings the Allegro from Bach's A minor Violin Concerto (BWV 1041)

Hilda Huang plays Contrapunctus 1 & 9 from
The Art of Fugue (BWV 1080)

Matt Haimovitz plays the Courant from Bach's First Cello Suite (BWV 1007)

John Bayless & Anatoly Larkin Improvisation on
the Aria from the Goldberg Variations (BWV 988)

Simone Dinnerstein plays Goldberg Variation 19 (BWV 988)

First, let me save us all a lot of reading and simply urge you to purchase
Michael Lawrence's marvelous DVD called Bach & Friends,
You waste more money on stuff far less interesting or worthwhile
so cough up the cash and get it. Period.

Second let me point to a couple of outtakes from the Bach & Friends DVD
that did not make the cut. Holy Moly! If these did not make the cut,
you can only imagine what WAS included. Again, charge it and get it
and play it a couple of times -- at least!