Mike's Director's Journal
Mike's Journey To BACH & friends
A Director's Journal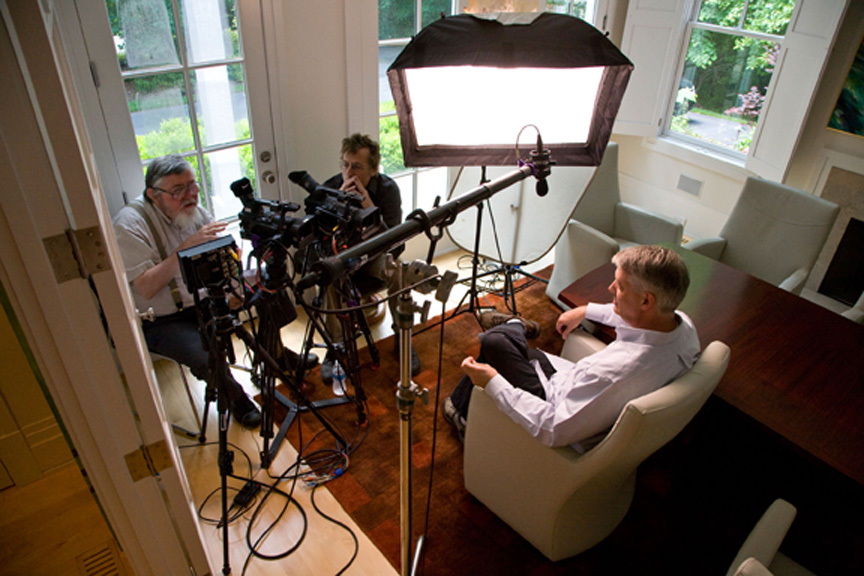 Background

While a teenage folksinger, I performed in many coffee houses in the Midwest and on the East Coast - including a summer as banjoist with The Stephen Foster Story in Bardstown, Kentucky. After graduating in 1970 from The Peabody Conservatory in Aaron Shearer's first classical guitar class, I performed widely on the classical guitar - in recitals as well as on radio and television.

In my last year at Peabody, I began composing film scores. Julian Krainin's Emmy Award-winning documentary The Other Americans was among the dozen or so films that I scored. Through working with Julian and composing for other films, I became fascinated with the process of making movies and purchased my first 8mm camera from my mentor Mr. Shearer. I soon became hooked and began to focus all my energies on learning the art and craft of filmmaking. My career change was solidified when I turned down an offer to chair and develop a new classical guitar department at the University of Maryland.

Over the years, I've made more than two dozen documentaries. Initially I focused on personal projects that I called "film essays": The Mind of Music, The Shared Experience, The 30 Second Dream and Lives of the City. I received production funds from both local and national foundations, including a grant from the Ford Foundation. The National Endowment for the Humanities funded three of my productions.

Eventually, filmmaker Julian Krainin and I formed a partnership. Our first production was Memory and Imagination – the first film ever commissioned by the Library of Congress, featuring Steve Jobs, Isaac Stern, Francis Ford Coppola, Pete Seeger, Julia Child, Stewart Brand, Ted Koppel, Al Gore and Richard Saul Wurman. We made television documentaries for HBO, CNN, and PBS and won many awards as well as an Emmy nomination. One of the documentaries, The Quiz Show Scandal, which I directed for The American Experience on PBS, became the Hollywood movie Quiz Show directed by Robert Redford with Mr. Krainin producing.

After many years of working with Julian on documentaries, television movies and feature films, I returned to making personal film essays. When I passed my 60th birthday, I decided to only make films of my own choosing - films that were not necessarily broadcast friendly but projects that were closest to my heart.

BACH & friends

BACH & friends started with only one thing - a life-long passion and love for the music of Johann Sebastian Bach. I first heard the music of Bach when I was a teenager in Indianapolis. I was a folk musician/bluegrass banjo player and had only a vague understanding of Bach. A friend loaned me the Swingle Singers first LP; and as soon as I listened to it, I was hooked - the music completely captivated me. I had never heard anything like it before; and in an instant, the world of Bach opened up to me.

Ever since, Bach's music has been a intimate and very personal part of my life. Over the years, my relationship to his music deepened and became more and more an essential element of my daily consciousness. Years ago, I began a daily habit of sight-reading Bach at the piano and it remains a highlight of my day. I was so obsessed with his music that I recall listening to Glenn Gould play the same Bach fugue every night for an entire summer as I drifted off to sleep.

This kind of personal relationship with Bach's music became the focus for the two-hour documentary BACH & friends.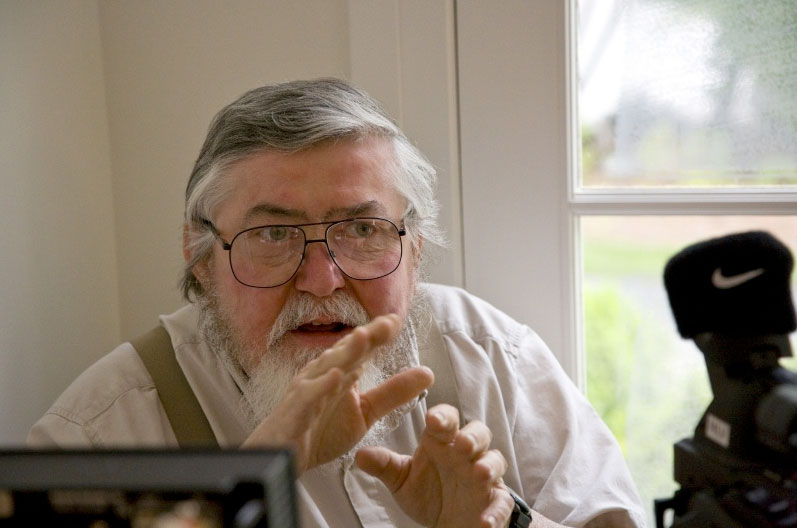 The Journey Begins


The three-year journey of making Bach & friends began with only a dream. There was no funding in place. I was fortunate to have a crew that believed enough in the effort to work initially on spec. For the first four shoots, I personally did the catering for the crew meals and paid all the production costs out of savings.

I learned how to be my own webmaster and, with the help of my son Arion, set up the Bach Project Web pages. After each shoot, I did an initial edit and uploaded cuts to the website. I began spreading the word as I looked for funding.

Bach & friends first took off when Richard Saul Wurman (creator of the TED & EG conferences) became a fan and introduced the project to Mike Hawley, the Entertainment Gathering's director. I first met Richard while making Memory and Imagination: New Pathways to the Library of Congress.

The Bach Project was launched at the Getty in Los Angeles when Mike Hawley was kind enough to allow me to show a ten-minute sample reel of the first four shoots at EG07. After the screening, John Abele, founder of Boston Scientific, handed me his card and said he would help. His Argosy Foundation donated $50,000 to the project. Mike Hawley also introduced me to his friend Mort Meyerson (Morton H. Meyerson Symphony Center in Dallas, TX). Mort got the idea for the film right away and became another major donor. The Bach Project was off and running.

I began cold contacting my dream list of favorite Bach players. To my amazement, one world-class performer after another came aboard and for no compensation. They all did it out of a shared love for this transcendent composer.

Béla Fleck and Edgar Meyer were the first to agree to be in the film, followed by Bobby McFerrin and Hilary Hahn. The Bach Project was moving like a steamroller. Soon Philip Glass, Simone Dinnerstein, the Emerson String Quartet, Chris Thile and Manuel Barrueco said yes. When Richard Stoltzman and Joshua Bell came aboard, I knew I was onto something important.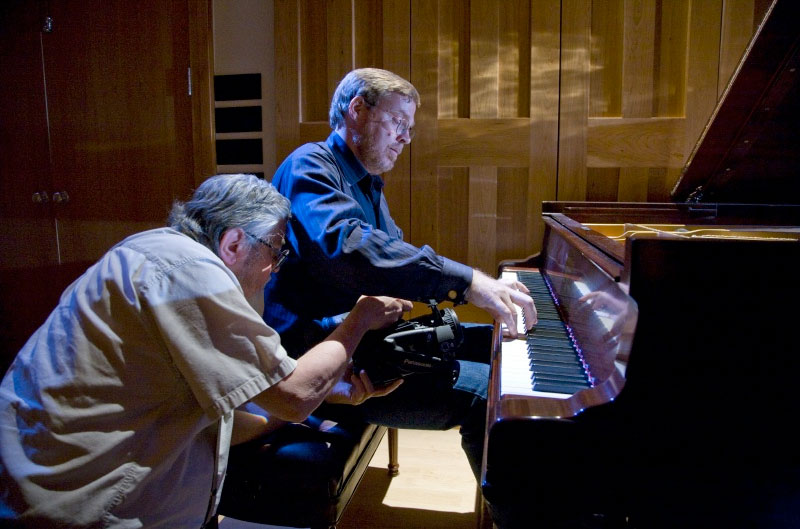 Production

Over the next year and with a first-rate crew, we did 36 shoots on $100,000 in donations. I was fortunate to have so many talented crewmembers but there are two consummate craftsmen mostly responsible for the high quality of the production. The enormously talented Richard Chisolm was the director of photograph and Don Barto was sound designer and mixer. These pros (both musicians) put their years of experience to work and did perhaps the finest work of their careers. Terry Campbell, David Partin, Tom Dalton, Paul Loeschke, and many other fine video craftsmen put their hearts into this effort.

It was a charmed project from the very beginning with each shoot going better than the one before. We filmed in Baltimore, Nashville, Raleigh, and many times in New York City, including at the Steinway House and Lincoln Center.

It was clear from the beginning that Bach occupied a very special place in the lives of these wonderful musicians. My love for Bach came full circle when Ward Swingle flew in from Paris to participate.

I'm very proud of the extremely high level of Bach playing in the film especially the moving performances of Richard Stoltzman's "Chromatic Fantasy" and Joshua Bell's transcendent "Chaconne."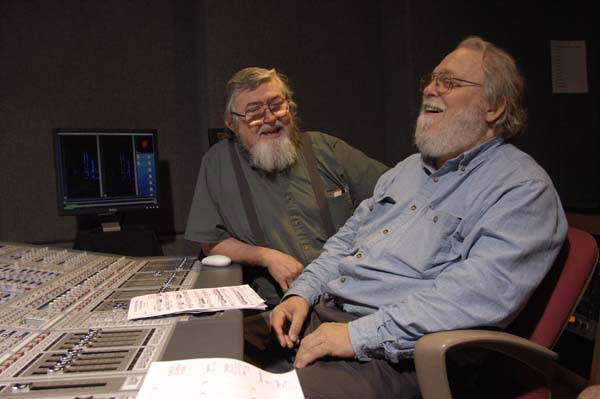 Editing and Finishing

The editing process took nearly a year to complete. As with the entire production, the headquarters was a second story bedroom in my Baltimore home and I was the entire staff. There was so much first-rate material that the high definition footage occupied many terabytes of hard drive space.

The most difficult part of the editing was finding a story and looking for connective tissue to string together the two-hour experience. I do not use narration, because I feel that even when it is done well, it taints the film with an artificial quality. As I was cutting, I imagined Bach writing a fugue and allowing the flow of the film to move organically from one central theme.

Each performance was filmed in a casual space with two cameras (usually Richard and me doing the shooting) and we generally did 8 to 12 takes. In the Mac editing program, Final Cut Pro, I was able to line up each camera shot in a timeline with measure numbers so I could find any specific place in the piece. This made it easy to select the best takes among a dozen or more shots all lined up in rows.

The Entertainment Gathering on January 21-23, 2010 was set as the goal for completion. Since BACH & friends was launched at EG, Mike Hawley offered to feature the completion of the film at the EG10 gathering in Monterey.

As the deadline approached, Josh Bell was scheduled to come to my Baltimore home/studio to supervise the final editing of his performance of the "Chaconne" for a companion bonus DVD of complete unadulterated performances. Three days before our session, my old Mac G5 computer died. Without funds to buy a new computer, Brooks Moore, who supervised the video finishing, loaned me another Mac and I was able to configure it just in time for the session with Josh.

Once the editing was completed and the picture was locked down, I began the sound mix with Don Barto. We spent over 40 hours blending and equalizing the audio tracks. Audiophile Magazine praised the extremely high quality of the audio and Don's mix as among the best they have ever heard in a documentary.

Next came the video finishing. For weeks the vector, RGB, and waveform video scopes were flashing as the color and density were adjusted for every shot in both the documentary and bonus disk.

When the documentary and performances-only files were locked down, I faced the challenge of personally doing the DVD authoring. I had gone through this complex process before, but it had been years and a new generation of software (DVD Studio Pro) had come on the scene for high definition productions.

Subtitles had been prepared in Spanish, Italian, German, Japanese as well as English. The process of creation of the DVD files was very frustrating as one problem after another resulted in many 16-hour days. Only with Brooks Moore's help were the final DVD files completed and sent to the DVD manufacturer just days before EG. Only after arriving in Monterey did I receive the final DVDs.

In addition to the feature length documentary, the two-DVD set includes a bonus DVD with 90 minutes of performances. This DVD of Bach delights features Joshua Bell's only recorded performance of Bach's greatest masterpiece, the "Chaconne." Since Josh had never recorded this piece for Sony (Joshua Bell is an exclusive Sony artist), they were initially up in arms and refused to allow it. Josh stood up for BACH & friends and Sony bowed to the artist's desire and allowed the "Chaconne" to be the highlight of the bonus disc.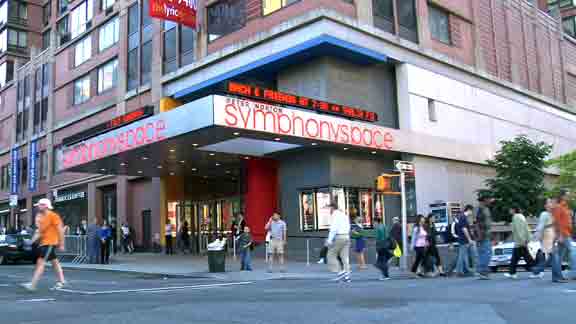 Completion and World Premiere

This magical three-year journey came to a glorious conclusion in Monterey. Representing BACH & friends at EG10, Richard Stoltzman played the "Chromatic Fantasy" to a standing ovation. I still can't believe it, but Josh Bell caught an early flight the morning after his wonderful Live From Lincoln Center PBS broadcast, "Joshua Bell with Friends @ the Penthouse" - featuring Sting, Renee Fleming and Chris Botti. Josh arrived in Monterey in time to represent BACH & friends and to perform at EG10.

Since returning to Baltimore, I have focused all my attention on spreading the word about BACH & friends. I've come to realize that the power and impact of the film ultimately resides in how broadly I can promote and distribute the production. BACH & friends now has a Facebook page and initial sales of the DVD have been very strong.

The world premiere of BACH & friends took place on Sunday, May 16th in New York City at Symphony Space and was followed by two additional Sunday screenings. Richard Stoltzman, Simone Dinnerstein, Zuill Bailey, John Bayless, Eugene Drucker, Matt Haimovitz and Hilda Huang joined host Mike Hawley on stage to perform Bach live and join in the celebration of the completion of this three-year labor-of-love effort.

BACH & friends digital/video magician Brooks Moore guided the production from the very beginning - from the choice of format and equipment through video finishing. Thanks to Brooks, BACH & friends was the very first film ever to be projected in high definition Blu-ray at Symphony Space. I donated a Blu-ray player to Symphony Space which is now in regular use.

The West Coast premiere of BACH & friends took place on July 14th in San Francisco at the prestigious Sundance Cinemas Kabuki Theater - sponsored by The San Francisco Classical Voice.

DVDs have been sent to music critics at all the major newspapers, web sites and magazines. Reaction to the film has been extremely positive with over 50 enthusiastic reviews. Within the first weeks of release the Washington Post, the Arts Journal, the Baltimore Sun, the Huffington Post, and over dozens of other print and web reviewers have given the documentary a wholehearted stamp of approval. New reviews come in weekly. Recently, Leonard Maltin called the film, "inspiring and enriching."

Joshua Bell, Béla Fleck, Jake Shimabukuro, Richard Stoltzman, Chris Thile and others in the film have put prominent announcements on their high profile web sites. BACH & friends has been premiered in major cities across the country. Prominent entertainment attorney Mark A. Fischer is representing BACH & friends pro bono and advising on other distribution possibilities.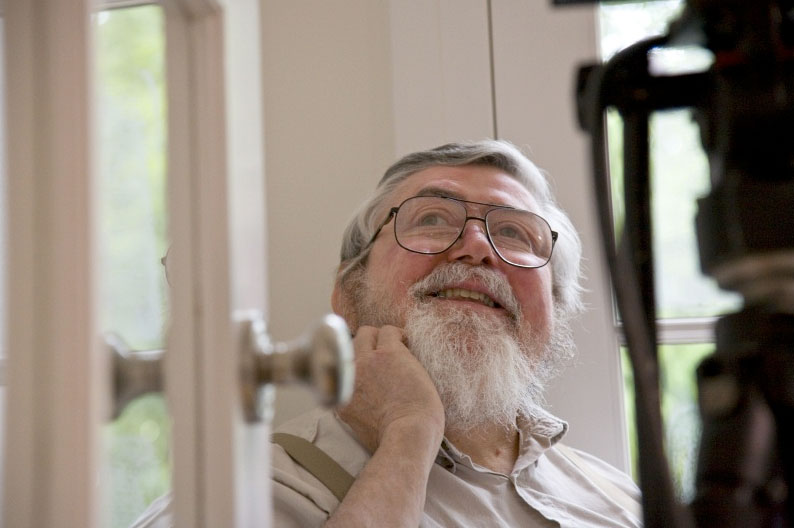 BACH & more friends

I have begun fundraising and am in the early planning stages of making a second companion film - BACH & more friends. There is so much of Bach that I was unable to address in the first film due to limited funds - especially the vocal and ensemble music as well as Bach on period instruments and Jazz interpretations. As I prepare for BACH & more friends, I'm exploring lots of new ideas and wonderful new Bach players to work with. Hopefully with the addition of this companion film I will have made my statement on Bach.